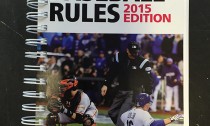 Frequently the question arises what's the ruling if a fielder catches a batted ball and the momentum carries him into dead ball territory. Here is the answer:
Dead-ball territory. In order to understand whether the ball can be "carried," one must first understand if the catch is allowed and whether or not the ball stays live. There is always a line of demarcation between live-ball and dead-ball territory. That could be a fence, a railing or a chalk line. Prep fields frequently have imaginary lines such as a fence line extended, a creek edge or the start of an upslope. Whatever the delineation is, it is considered live-ball territory.
Under pro rules, a catch cannot be made with any part of the fielder's body touching dead-ball territory (6.05a Comment)...
Read More