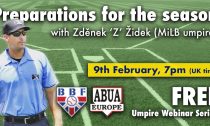 SEASON 2 IS HERE!
First session in the new season of the British Baseball Federation (BBF) and Amateur Baseball Umpires' Association – Europe Umpire Webinar Series will be hosted by Minor League Baseball Umpire, Zděnek 'Z' Židek!
Reflecting on the unprecedented times and the impact of COVID-19 on all our lives, 'Z' will share insights into his preparation for the shortened professional season last year and the learnings for this coming season.
Get in the mindset! Get in shape!
Please register via this link (if you have registered last year, you don't need to register again):
https://zfrmz.com/cgXgSpWkpf7saEoKbzI9
Call details will be shared before the event.
Read More